Accidents are always stressful.
Our goal is to remove the worry from your accident.
Saturday Appointments Available!
Germantown Auto body
407 Old Germantown Rd.
Germantown Hills, Illinois 61548


Site of the old blacksmith shop of 1860's

ph: 309-383-2266
fax: 309-383-3010
Email: gta@mtco.com

Location: Along the rt. 116 frontage road just east of Wally Wash car wash.
Estimates are always free!

Sometime around 1860, a blacksmith shop was opened in Germantown Hills. That shop was located on the present site of Germantown Autobody. So for over 150 years, someone has been on this site repairing vehicles. The business has evolved from a pre-civil war blacksmith to a modern, insurance-approved, fully-equipped facility. Instead of forges, we now have state of the art equipment.
Because we use Waterborne from PPG, "Environemtally Friendly" we can guarantee that your car color will match. And of course, every job is warranted by us and supported by parts and material manufacturers.
We're very proud of our history! We are very proud of our staff of highly trained, award winning, certified specialists in painting and auto body repair. We have many, many years of experience. Over three decades in this business, under the same ownership, means you can count on us to be here when you need us. We combine the best craftsmanship of the past with all the advanced technology of today, to offer you an outstanding repair.
We hope that you never need to come into our business...but if you do, please remember that you and your car are extremely important to us. We will do our utmost to restore your car to its pre-accident condition. Please stop by if you have any questions.
Under New Managment!
Brian S. Cook and Staff
Germantown Auto body


Map to our shop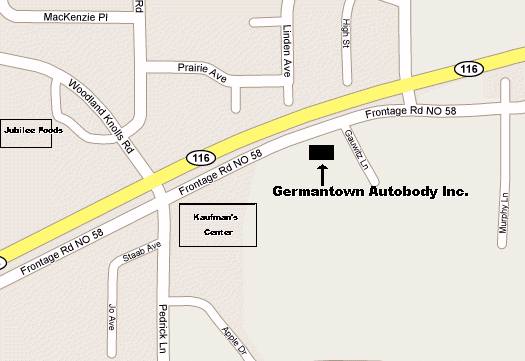 Visit www.germantownhills.com your community click!